Monthly Mindful Meditation
A New Opportunity:
Mindful Meditation
Monthly Mindful Meditation
Begins January 11, 2022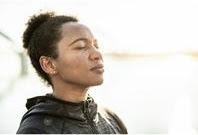 Would you like to learn how to relax your body and your mind and experience deeper connection with calmness and comfort?
Margaret Andrews, a certified hypnotherapist who has been helping folks relax and gain deeper insight into themselves for the past 10 years, is offering a free half-hour Mindful Meditation on the second Tuesday of the month at 11 a.m.  This meditation is open to men and women.
For those who desire to dive deeper into inner exploration on any issue, scholarships are available to cover additional sessions for clients of the Cancer Resource Centers of Mendocino County.  (Talk to your patient navigator for details.)
Mindful Meditation begins January 11 at 11 a.m. on Zoom.  Please email Margaret directly at [email protected] to let her know you are interested.  She will email you the Zoom link.  The sessions will be audio only.
Hope you can join us!