Redwood Coast Airport Microgrid Completion and Grand Opening
Please join us next Wednesday, June 22, to celebrate the completion and successful commercial operation of our Redwood Coast Airport Microgrid.
Humboldt County has shown once again that it is an innovative leader and collaborative model for renewable energy, sustainability, and resilience. This accomplishment also demonstrates how Community Choice Energy programs like ours are accelerating the movement away from fossil fuels and decarbonizing our local energy resources.
You will hear speakers from RCEA, the Schatz Energy Research Center, the California Energy Commission, PG&E, the California Public Utilities Commission, the County Airport, Cal-Ore Life Flight, Hoopa Valley Tribe, the Blue Lake Rancheria, and Cal Poly Humboldt provide the context and the vision.
We will…
describe how project partners came together to accomplish this complex research & development project
explore who benefits from the advancement of this resiliency technology
detail how emergency response and "islanding mode" operate
get "into the weeds" about grid integration, energy market participation, and more
share next steps for California microgrids, including the Cal Poly Humboldt campus microgrid and Tribal energy resilience programs
demonstrate how projects like these into local workforce development and training opportunities
Schedule of activities:
10:00 am — Gates open, time to mingle and enjoy coffee and refreshments
10:30-11:30 am — Main speaker event
Noon — Microgrid tour (unfortunately, space for the public tour was limited and it is now full, but future tours can be arranged. See RCEA's website for details)
We will have information about RCEA's programs and rebates for homes and businesses, advanced transportation, plus some fun give-aways.
How to attend:
Main event: All are welcome! Please park in the main airport lots (unless otherwise instructed onsite) and then head to the front of the terminal, where staff (or signage) will provide directions. The microgrid event is located on the south side of the airport along Baadsgaard Avenue; the gate is at the north end of the road. Carpooling is highly recommended to limit site congestion.
For more information:
Check RCEA's microgrid webpage: RedwoodEnergy.org/rcam/
Contact Nancy Stephenson by emailing

[email protected]

or call (707) 382-7110 or (707) 269-1700 if you have questions. We can also connect you with the Schatz Center and PG&E representatives.
Please feel free to share this invitation with your friends and colleagues!
Partners
The Redwood Coast Airport Microgrid is California's first completely renewable, front-of-the-meter, multi-customer microgrid. It is the product of a collaborative partnership between the Redwood Coast Energy Authority, the Schatz Energy Research Center at Cal Poly Humboldt, the County of Humboldt, Pacific Gas & Electric, Schweitzer Engineering Labs, Tesla, Inc., TRC, and The Energy Authority. Many local and regional contractors also contributed to this groundbreaking effort.
This microgrid project was funded by the California Energy Commission's EPIC program, the Redwood Coast Energy Authority, and was supported by a loan from the US Department of Agriculture.
About RCAM
The regional California Redwood Coast-Humboldt County Airport (ACV) is located in McKinleyville, California, and serves the greater North Coast community with over 50,000 flights per year, including commercial airline, private, and emergency medical flights. Adjacent to the airport, the US Coast Guard Air Station Humboldt Bay provides search and rescue for 250 miles of rural coastline, from the Mendocino-Sonoma County line to the California-Oregon border.
The Redwood Coast Airport Microgrid (RCAM) features a 2.2-megawatt solar photovoltaic array that is DC-coupled to a 2-megawatt (9 megawatt-hour) battery energy storage system, comprised of three Tesla Megapacks.
When a power outage occurs, the microgrid islands from the main grid and energizes the circuit that encompasses the airport, the adjacent Coast Guard Air Station, and several neighboring facilities. RCAM will provide seamless, ongoing electricity for all customers in the microgrid circuit during any local outages.
During standard blue-sky operations, RCAM generates clean and renewable energy for RCEA's customers and participates in the California Independent System Operator (CAISO) wholesale energy markets. By storing solar energy during the day and releasing it onto the grid as needed in the evening and during heavy demand periods, RCAM enables greater utilization of solar, supports grid reliability, and creates an economic model for future microgrids.
This project is also a template for PG&E's Community Microgrid Enablement Program and Tariff – which have paved the way for communities across California to provide resilience for their own critical facilities.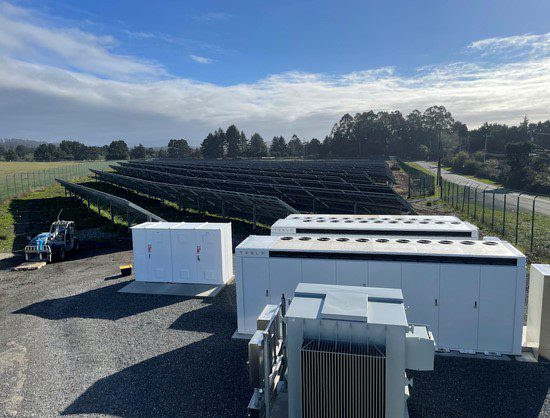 photo: Schatz Energy Research Center
We hope to see you on Wednesday. You can also visit our website for updates and details on all our projects, progress, and events. And THANK YOU to all our customers and partners for joining us and exercising your power to choose.